Argopantes and Corporate Social Responsibility


Argo and Corporate Social Responsibility or CSR in this case is already an inseparable part of the Companys activities.
Companys responsibility for the welfare of society and the environment is as important as the responsibility for the growth of the Company.
Both are done in the interest of the Company for longterm sustainability. Because a company is not merely about business and profit, but also for the welfare of society.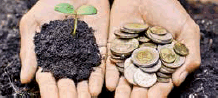 The Company realizes that there is a lot of support provided by the community around the Company, so it should be the responsibility of the Company to return to the community what is rightfully theirs..